The Creative Cross-Training Experiment
Have you ever wanted to learn a creative skill—but you put it off?
As commercial creatives, we spend our days designing, art directing, illustrating for our bosses and clients—and we often neglect our personal creativity. We limit ourselves to the creative label printed on our business card.
As a photographer, I know that I'm a victim to this way of thinking…
…and it gnaws at me. So when I read this article on 99u about creative cross-training, it resonated.
If you're not familiar with the concept of creative cross-training, it's basically the same as regular cross-training. Athletes use cross-training to work on an area that will affect their primary sport (eg. snowboarders can bike to improve leg strength and balance). Creative cross-training is similar: learn a new creative skill to get better at your primary craft.
A designer could learn to code. An illustrator could learn piano. The actual skill doesn't matter, so long as it's new to you.
We decided to run a small experiment with creative cross-training here at Creative Pulse.
Creative Pulse volunteer, Derek Kauss took on a 30-day creative cross-training challenge. The goal: practice a fun creative skill every day, see what opportunities materialize, and talk about the experience with the Creative Pulse community.
Derek is an art director and designer by trade—he's worked for brands like Herschel Supply, Arc'teryx, London Drugs. He chose to do a 30-day portrait sketching challenge.
Last week we discussed Derek's experience and shared a creative cross-training framework for others to follow.
How To Plan A 30-Day Creative Cross-Training Challenge
#1 – Find an accountability partner
Let's go back to the athletic analogy for a second: it's way easier to workout with a buddy….and you are more likely to complete a 30-day challenge if you do it with a friend.
#2 – Make sure your 30-day challenge is S.M.A.R.T
Specific – Derek chose to sketch a portrait, with the same materials, every day.

Meaningful – This is straightforward…choose something you're excited about

Agreed Upon – Share your plan with your accountability partner (see #1). Optional: set consequences for skipping a day (like donating to an organization that you hate).
Realistic – Looking back, Derek would have set a 20-minute time-limit on each sketch. This would have helped him complete it on busy days.

Time-Based – Once a day for 30-days (you got this one covered)
#3 – Share it
Documenting and sharing your progress gives you a chance to think about what you are learning in a different way. It gives you something to look back on. It also opens up surprising collaboration opportunities as people see and get inspired by your work.
If you start a challenge, use the hashtag #CPyvr to share it with our community! We'd love to see what you make.
Photos From The Creative Cross-Training Experiment Event
Attendees got a chance to experiment with stop-motion, cookie design, and hand lettering.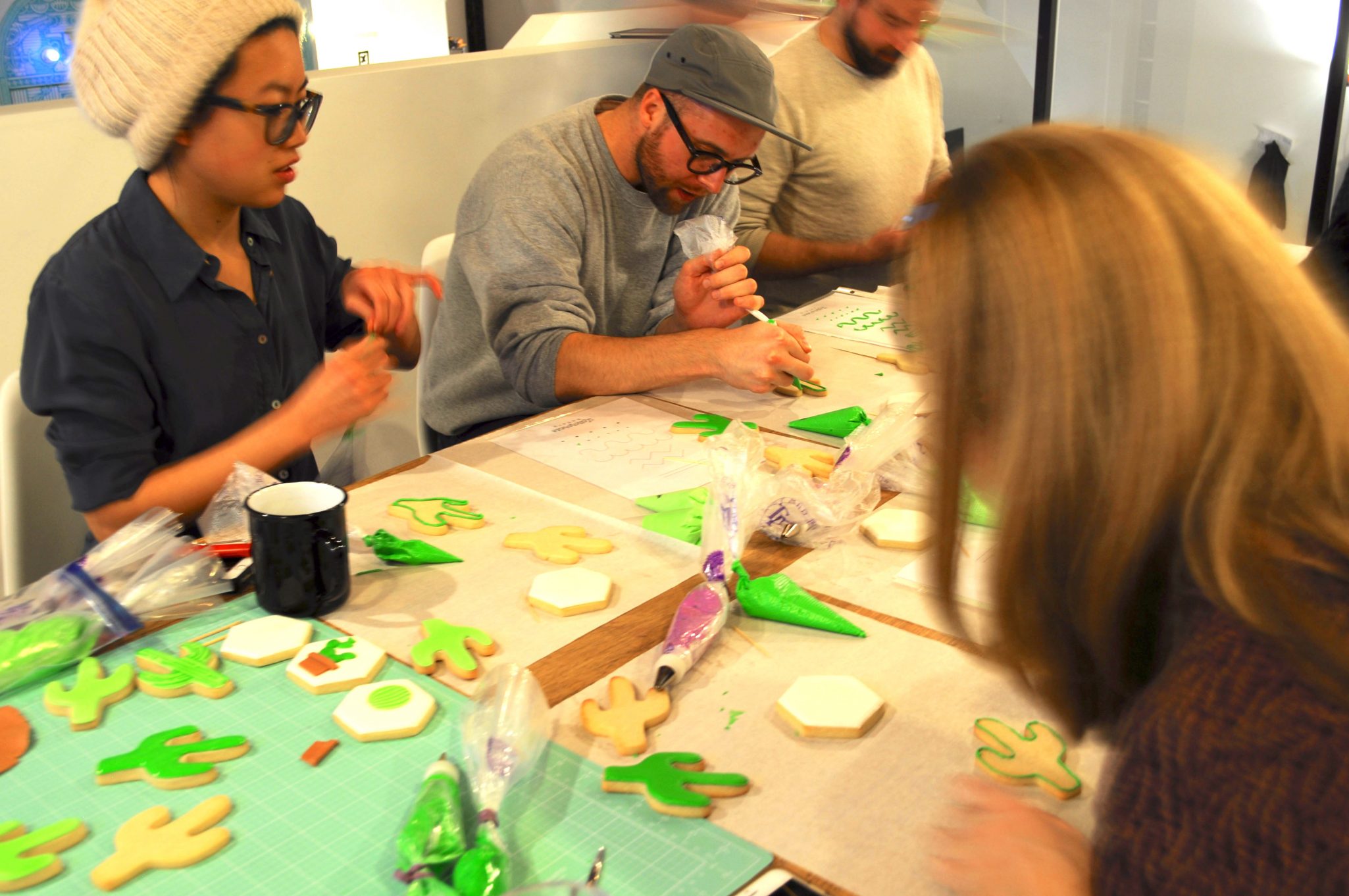 Thank you Derek for sharing your experiences at this event. Big thanks also to our volunteer facilitators: Alanna Munro (type wizard), Trevor Jansen (visual storyteller), and Kylie Mangles (maker of indescribable cakes). Last shout out goes to our fantastic host, /Archive for being such a fantastic supporter of creative community in Vancouver.
I think this might have been the most fun Creative Pulse event to date—but it would have been nuthin' without all of your help.

---
Be The First To Know About Creative Pulse Events