Sat, Nov 18, 1:00pm-7pm
Work Place, 163 W Pender St
Vancouver, BC
---
Freelancing Essentials:
Business Workshops For Commercial Creatives
How do you create a freelance business that attracts ideal clients—and gives you the lifestyle you're dreaming of?
It doesn't happen by mistake.
There are thousands of talented freelancers. Too many rely on hope and luck—and they end up failing.
Building a thriving freelance career with a predictable income is related more to your business skills than it is to your creative skills. It takes focus and planning to succeed.
Thankfully, you don't have to do it alone.
Creative Pulse and Work Place have created a one-day experience for creatives who want a roadmap for building a rewarding freelance business from the ground up.
This is for commercial creatives who want to launch a new business, or optimize their existing one.
Workshops will cover:
A purpose driven-approach for launching (or revitalizing) your business




Frameworks for client outreach, managing money, and growth




What does success mean to you as a freelance creative?
These intimate, seminar-style workshops are filled with inspiring examples from creative entrepreneurs who have been on the journey you are on. Instead of cookie-cutter approaches, they'll provide processes and resources that you can apply right away.
Join us at Work Place—and discover what it takes to succeed as a freelance creative.
Space is limited to 30 attendees.
Register now.
---
Nov 18, 2017
1:00 – 1:15pm
Welcome! Arrive and register
1:15 – 2:00pm
Freelance Fundamentals
Allison Bran
2:00 – 4:35pm
Rotating Small Group Sessions (45 min each)
Note: Participants will experience all sessions over the course of the day.
Client Outreach: Creating A Network And Developing Your Customer-Base
Kyle Carpenter
Simple, Stress-Free Bookkeeping For Freelancers
Bob Wang
Smart Growth Frameworks: Freelancer Tools, Automation And Subcontracting
Benny Giang
4:35 – 5:00pm
What Does Success Mean To You As A Creative Freelancer?
Shallom Johnson
5:00 – 7:00pm
Social
---

Allison Bran – CEO & Founder of REX Marketing + Design
Topic: Freelance Fundamentals

Allison Bran is a marketing leader who's been designing and building brands for 18 years. She got her start in the late 90's as a freelance web designer and developer, cut her chops through the exciting (and risky) dot-com boom, and found her passion for communications and brand building. In 2006, she founded REX Marketing + Design Inc. (formerly REX IMAGE) and brought her unique approach to brand and business development to lead clients to local, national and international success while earning REX multiple international branding awards. Allison's personal mission is to support purpose-driven leaders and build positive-impact brands. Outside of work, Allison and her husband have wonderfully wild toddler and sweet newborn. They enjoy spending as much time as possible in the beautiful parks and trails of their hometown, Port Moody. Allison will share the fundamentals for growing a freelance business.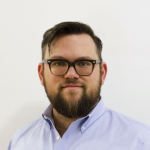 Kyle Carpenter – Editor of Clients From Hell
Topic: Client Outreach: Creating A Network And Developing Your Customer-Base

Kyle Carpenter is the Editor in Chief of Clients From Hell, a resource site for freelancers to share their anonymous horror stories about awful clients and the honest mistakes people make when they start. He began his freelancing career while finishing a PhD in English at Simon Fraser University, and is the co-writer of the smash hit at this year's Vancouver Fringe festival, Fifty Shades of Dave. Kyle will provide step-by-step instructions in how to get new clients, and even more importantly, how to qualify them so that you can avoid your own Clients From Hell.

Bob Wang – CEO & Founder of Legacy Advantage
Topic: Simple, Stress-Free Bookkeeping For Freelancers
Bob is owner and founder of Legacy Advantage. He holds a CPA and has experience at a private client services brand and with the Big 4. Bob is passionate about empowering organizations and helping his businesses create lasting legacies through quality bookkeeping services. In just 2 years, Bob has lead Legacy Advantage to become the highest rated bookkeeping service in Vancouver. Bob will outline how freelancers should set up their bookkeeping systems, how to approach the basic steps in bookkeeping, and how to select the right bookkeeper when you're getting too busy to DIY.

Benny Giang – Chairman of User Happiness Toby
Topic: Smart Growth Frameworks: Freelancer Tools, Automation And Subcontracting

Benny is Axiom Zen's T-shaped marketer and product expert. He created Axiom Zen's first framework for growth experiments and lends his smart strategy decisions across the company. Benny launched Toby on Product Hunt, and was an integral part of the team who has seen it grow to over 100,000 users in just ten months. Benny will reveal frameworks that freelancers can use to grow their business without getting overwhelmed.

Shallom Johnson – Freelance Artist, Arts Administrator & Educator
Topic: What Does Success Mean To You As A Creative Freelancer?

Shallom Johnson is a Canadian visual and dance artist, writer, curator, and educator. Shallom holds a BFA in Dance from Simon Fraser University and has been active in the visual art, performing arts, and media industries for the past 15 years. She has been creating work under the alias Indigo since 2008. Her work has been exhibited, presented, and seen on the street in outdoor and indoor spaces in Canada, the United States, the UK, South Africa, and across Western Europe. Shallom's session will throw out the traditional notion of success and help freelancers to think outside of the box.
Special Thanks To